A Proud History
Riverfront Federal Credit Union was founded in 1948 as the RDG Reading Federal Credit Union to serve the employees of the Reading Railroad. Through the years, other organizations and companies were permitted to join RDG, leading to substantial growth. To reflect the resulting diversity of our field of membership, we changed our name to Riverfront Federal Credit Union in 1987.
Additional growth came in 2000 when Riverfront added the City of Reading as an underserved area to our field of membership; and again, in 2008 when we were granted a charter amendment to allow anyone who currently lives, works, worships or attends school in Berks County, Pennsylvania or is a legal entity doing business in Berks County to join.
We are as proud of our beginning as where we are today.
Our Mission
To enhance the financial life of our members.
Ready To Get Started?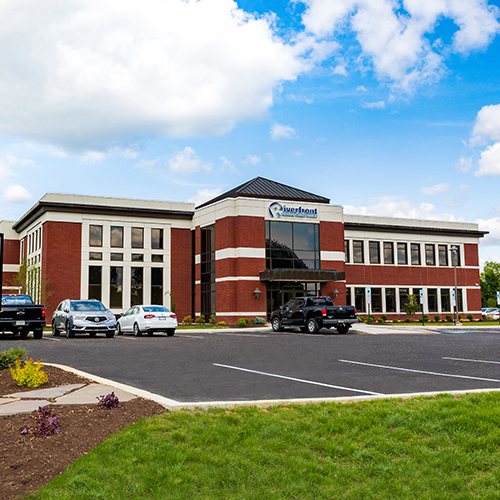 Our History
Riverfront Federal Credit Union started in 1948 as the credit union for the Reading Railroad and has focused on improving the financial position of its members and making a difference in the community ever since. Here's a brief history of Riverfront's evolution over the years.
September 22, 1948
First meeting of Reading Railroad Federal Credit Union held at Reading Company YMCA. Incorporation papers signed for initial charter to serve Reading Company employees and those of its subsidiaries.
August 1955
Granted space in the Ladies waiting room of the Outer Station which acted as the first actual office of the organization.
October 20, 1960
Charter amended to add pensioned employees of the Reading Company Railroad to the field of membership.
September 30, 1968
First meeting held in new credit union office, a stand-alone building near the Wheel Shop north of Spring Street, referred to as the 'White House'.
December 10, 1971
Merger with Reading St. Clair Federal Credit Union completed.
July 6, 1976
Received approval to change name to Conrail Amtrak Federal Credit Union as part of railroad mergers.
July 9, 1979
Groundbreaking ceremony for new main branch located at 430 S. 4th Street in Reading.
September 17, 1979
Interior lobby of 430 S. 4th St. office in downtown Reading.
October 1, 1987
Name officially changed to Riverfront Federal Credit Union to reflect membership of multiple select employee groups.
February 28, 2000
Merger with Polymer Employees Federal Credit Union completed.
February 16, 2006
New Shillington branch at 7 Parkside Ave. opens.
2008
Berks County community charter approved.
2015
The Board of Directors adopt a New Direction strategy.
2016
Branch at 2001 Museum Road in Wyomissing opens.
2020
Voted Reading Eagle Readers' Choice Best Credit Union.
2021
Opened new headquarters and retail branch located at 2609 Keiser Boulevard in Wyomissing.
How can I become a member?
Customers become members and part owners when they open an account here. Our profits are returned to members in the form of better rates, lower fees, improved services, and increased reserves to maintain our unmatched financial strength. Having an account at Riverfront means that you are part owner of the Credit Union.
Deposits are used to fund loans to other account holders. Earnings are used to increase savings yields, lower loan rates, offer new financial services, or add to the institution's financial strength. Don't worry; your money is safe with us. The National Credit Union Administration (NCUA), an agency of the U.S. Government, regulates us. The NCUA examines each credit union annually and insures your savings accounts up to at least $250,000.
Eligibility
To be eligible to join Riverfront you must currently live, work, worship or attend school in Berks County, Pennsylvania or be a legal entity doing business in Berks County. Also eligible for membership is a current member's spouse, child, parent, sibling, grandparent, grandchild and in-law. You will need to provide proof of your eligibility.
All it takes is a $5.00 deposit into a savings account.
Ready to Get Started
Basic Checking is a free, no-frills, straightforward account that offers convenient services and no charges.
Open Your Account Today
Riverfront Live
Video Banking
Video Banking – Easy and Convenient
During business hours, our team of experts is ready and waiting to work with you. When you log into your session, you can select which group can assist you from our Personal Member Service, Lending Services, Business Services or Mortgage Services area.
Reach Out