Affordable auto loans. No mixed signals.
Your ride is important to you, so it's important to us too! We work hard to give you the best possible terms, rates and financing opportunities on your vehicle loan so you can afford the vehicle you really want. We offer a quick approval process, so you can get out on the road fast!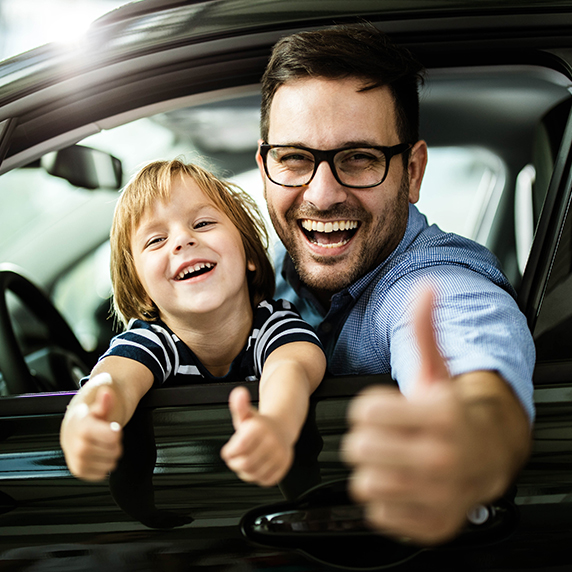 Write to Ride Check

With a preapproved Riverfront auto loan, you can take control of your auto buying experience. A Write to Ride Auto Loan puts you in the driver's seat so you can negotiate knowing exactly how much you can spend, plus you enjoy:
Increased bargaining power with a blank check in your hand
The flexibility to buy anywhere – this avoids multiple credit pulls
Shopping at your own pace
Eligibility for UrCash Loan Rewards, which aren't offered at the dealership
Want to refinance from another financial institution for a lower rate? No problem. We can help you there, too.
Qualifying Features and Benefits
UrCash – Get paid up to $500 for your loan with cash-back at loan funding Debt Protection – Protect your loan and preserve your standard of living
GAP Plus – Receive reimbursement when paying your deductible up to $500 and cover any deficiency balance if your car is totaled
Extended Warranty Protection – Protect your investment and your wallet in case of an unforeseen repair
Skip A Pay – With Skip A Pay, you can skip a loan payment when the time is right for you, during the month of your choice.
Auto Spa – Free inside-out car washes at Auto Spa of Wyomissing when you finance or refinance your auto loan from another financial institution with Riverfront and select a term of 60 months or more.
Preferred Dealerships
Riverfront partners with many local dealerships to find the car you want and put you into a payment you can afford. Check out our preferred dealerships in this area and ask us how to get preapproved today:
Apply for a Loan or Credit Card
To get started, you'll need a Social Security number, Driver's License and, if applying for an auto loan, the VIN and mileage.
Apply Now
Riverfront Live
Video Banking
Video Banking – Easy and Convenient
During business hours, our team of experts is ready and waiting to work with you. When you log into your session, you can select which group can assist you from our Personal Member Service, Lending Services, Business Services or Mortgage Services area.
Reach Out