Check Out Our Current Promotions!
At Riverfront Federal Credit Union, we love serving you! Because we take the time to survey your needs and wants, we craft our promotions around those products and services that benefit our members most. These may include special terms on savings accounts, a low rate on a loan, or even free car washes or coffee on us!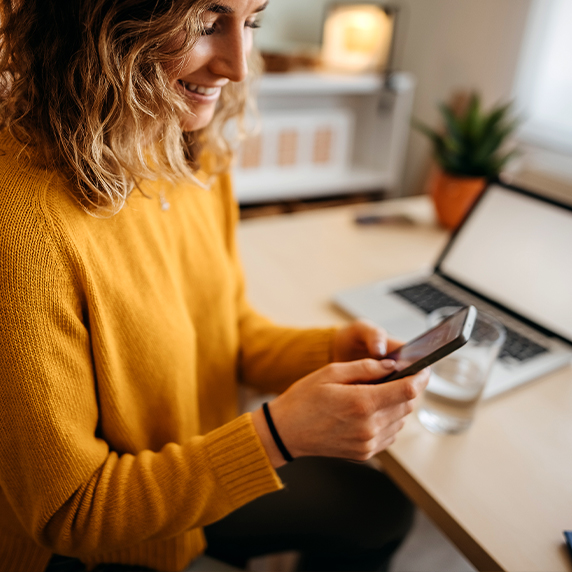 Promotional offers cannot be combined.
Save Smarter with Riverfront Certificates!

Looking for a low-risk way to build up your savings? Open a Riverfront certificate in a term ranging from 3-12 months for just $1,000. Short-term certificates offer a greater return on your investment than simply leaving those funds sitting in a savings account. Lock in this competitive fixed rate today with the term that works best for you!
Certificates
Rates Effective: 6/19/2023
Term
APY*
3 months
5.25%
6 months
5.25%
12 months
5.25%
*APY (Annual Percentage Yield). APY accurate as of June 19, 2023 and subject to change. APY is fixed to maturity. Minimum balance requirement is $1,000.00. A certificate of deposit account pays the highest dividends when reinvesting the dividends in the account until maturity, Subject to an early withdrawal penalty. At time of maturity the 3, 6 & 12-month certificates will renew into the original term at the prevailing APR offered at that time. For more information please refer to Riverfront's Master Account Agreement Part 2.
Riverfront has Vehicle Loans with ALL the Options!
No Payments for 90 Days!1
Riverfront can help you finance a new set of wheels affordably as well as not worrying about the payments for 90 days. Whether you prefer a car, truck, motorcycle, ATV, or something else, financing with Riverfront will make your financial life easier, plus having extra cash in your pocket makes it even better. Don't wait, this offer won't last.
Refinance your Auto Loan and Receive $150 Instantly!2
Refinance your current car loan from another financial institution with Riverfront to not only lower your monthly payment but also receive $150 cash on the spot!
Free Car Washes are Waiting for You!3
It's easy to keep your new (or new to you) car spotless! Finance or refinance your auto loan from another financial institution with Riverfront and be on your way to get 6 free inside and out car washes compliments of Riverfront and AutoSpa of Wyomissing!
1 "No Payments for 90 Days" applies to all modes of transportation including Autos, Motorcycles, RV's or Boats and is valid for 90 days from date of purchase or refinance from another financial institution, after which regular payments will begin. Interest will accrue during the No Payment period. Offer excludes existing Riverfront loans. Limited time offer; may be withdrawn at any time. Rates subject to change. Rates based on credit requirements. Other restrictions may apply.
2 Refinance your current car loan from another financial institution and we will give you $150 cash on the spot! Don't delay. This special offer is only available for a limited time, so apply now using Riverfront Live or call 800-451-3477, option 5. Limited time offer; may be withdrawn at any time. Other restrictions may apply.
3 Finance or refinance your auto loan from another financial institution with Riverfront and select a term of at least 60 months or more with a minimum loan amount of $20,000. If you have or open a checking account with a debit card and direct deposit, you get 6 free inside-out car washes! For those wanting peace of mind, we can offer disability, life and unemployment protection on your loan. By electing one or more of these coverages, your car will benefit by receiving up to 10 free inside-out car washes and a full detail, a $250 value on its own. Limited time offer; may be withdrawn at any time. Other restrictions may apply.
HELOC 2.49% APR* for 6 Months

Tap into Your Home's Equity today!
A Home Equity Line of Credit gives you the financial flexibility to borrow what you need for projects large and small. Consolidate bills, update your kitchen, add a pool, or cover education or medical expenses.
Access your credit line for up to 5 years, no need to re-apply
Up to 15-year repayment term from the date of last advance
Apply now, this special promotional rate is only offered for a limited time!
* APR = Annual Percentage Rate. A special APR of 2.49% for the first six months with a $10,000 minimum advance. The introductory APR will automatically terminate at the end of the 6-month period. Home Equity Line of Credit rates are based on the Prime Rate as published in The Wall Street Journal on the 3rd Tuesday of each month plus or minus a margin with a floor rate of 3.5%. Your APR may vary. Property insurance is required. With a $10,000 initial advance we will waive all basic property search and recording fees, excluding appraisal fee. Payments may be tax deductible, consult your tax advisor. All loans are subject to credit approval. Other restrictions may apply.
Show your Car Magnet and Get Rewarded!*

*Follow these easy steps:
Pick up your FREE Riverfront FCU vinyl sticker or car magnet at a Riverfront branch and place it in a visible location on your vehicle.
Riverfront spotters will be out in our Berks communities looking for vehicles displaying our stickers and magnets. If we spot your vehicle, we will tuck a notification under your windshield wiper.
If you've received a notification, stop by a Riverfront branch and claim your Visa Gift Card! It's THAT simple!
How can I become a member?
Customers become members and part owners when they open an account here. Our profits are returned to members in the form of better rates, lower fees, improved services, and increased reserves to maintain our unmatched financial strength. Having an account at Riverfront means that you are part owner of the Credit Union.
Deposits are used to fund loans to other account holders. Earnings are used to increase savings yields, lower loan rates, offer new financial services, or add to the institution's financial strength. Don't worry; your money is safe with us. The National Credit Union Administration (NCUA), an agency of the U.S. Government, regulates us. The NCUA examines each credit union annually and insures your savings accounts up to at least $250,000.
Eligibility
To be eligible to join Riverfront you must currently live, work, worship or attend school in Berks County, Pennsylvania or be a legal entity doing business in Berks County. Also eligible for membership is a current member's spouse, child, parent, sibling, grandparent, grandchild, in-law and household member. You will need to provide proof of your eligibility.
All it takes is a $5.00 deposit into a savings account.
Ready to Get Started
Basic Checking is a free, no-frills, straightforward account that offers convenient services and no charges.
Open Your Account Today
Riverfront Live
Video Banking
Video Banking – Easy and Convenient
During business hours, our team of experts is ready and waiting to work with you. When you log into your session, you can select which group can assist you from our Personal Member Service, Lending Services, Business Services or Mortgage Services area.
Reach Out