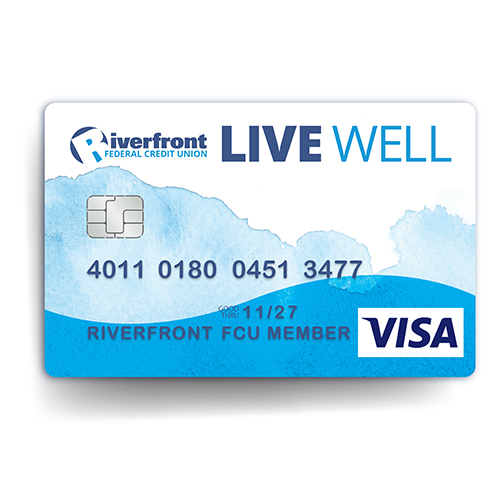 Live Well VISA® Credit Card
The purchasing power you need to manage your lifestyle, Riverfront's Live Well Visa card gives you one-of-a-kind features including no-interest financing on shorter terms. The card is specially designed with an affordable rate and perfect for paying for out-of-pocket expenses which may not be covered by insurance. It can be used to cover costs for you, your family and your pets. Meet the minimum purchase amount required at selected merchants including most dentists, plastic surgeons and vets and you can secure a 0% APR* interest for up to 18 months, depending upon purchase amount. Plus, you can take advantage of multiple 0% opportunities simultaneously,
0% APR* for 6 months on minimum $500 purchases
0% APR* for 12 months on minimum $5,000 purchases
0% APR* for 18 months on minimum $10,000 purchases
To apply for the Live Well credit card, please call (610) 374-8351, option 5 to speak with a Riverfront representative.
Tap the App
Enjoy popular card-management features for your Riverfront Federal Credit Union credit card all in a single platform. Check balances, make payments, set alerts, turn your card off and on, and so much more!
Download our free mobile app today from:
Apply for a Loan or Credit Card
To get started, you'll need a Social Security number, Driver's License and, if applying for an auto loan, the VIN and mileage.
Apply Now
Riverfront Live
Video Banking
Video Banking – Easy and Convenient
During business hours, our team of experts is ready and waiting to work with you. When you log into your session, you can select which group can assist you from our Personal Member Service, Lending Services, Business Services or Mortgage Services area.
Reach Out
---
*APR = Annual Percentage Rate. The 0% promotional APR for qualified borrowers will apply only during the promotional period of 6, 12 or 18 months and limited to merchant partner codes as permissible under the promotion. Minimum purchase required for qualification. Thereafter, the APR for any existing balance or future advances will convert to the applicable APR of 14.99%. Maximum credit limit $30,000. All loans subject to credit approval. Other restrictions may apply. Regular account terms apply to non-promotional purchases except the fixed monthly payment will apply until the promotion is paid in full. Existing cardholders should see their credit card agreements for their applicable terms. Subject to credit approval.