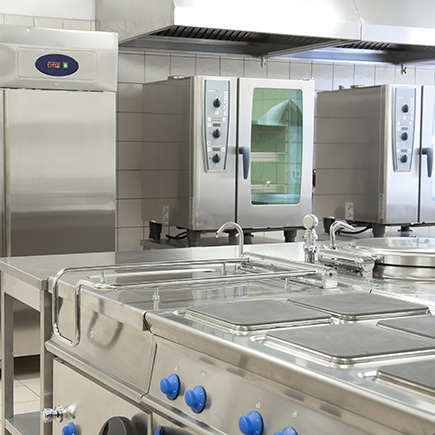 Business Equipment Loans
Riverfront Federal Credit Union term loans provide small business owners with a variety of ways to finance asset purchases, expand operations, or even plan build outs.
Features:
Borrow from $5,000 to $1,000,000 – best used for new/used equipment and machinery purchases, leasehold improvements, business expansion and debt restructuring. This product is best used to manage your balance sheet! For additional information and rates call 800-451-3477.
Riverfront Federal Credit Union offers loan terms up to 144 months with monthly principal and interest payments, competitive fixed interest rates and there are no prepayment penalties!
Commercial Services FAQ's and Information
Business Credit Card Benefits

What Exactly is a Commercial Loan?
As the Chief Lending Officer at Riverfront Federal Credit Union, I'm often asked "What is a commercial loan or a business loan?" Basically, a commercial loan is the same as any other type of loan; except the lending institution is loaning money to established entities such as a business, partnership, a limited liability company or a corporation. So what are the main differences?
The process for commercial lending definitely has a unique approach when it comes to underwriting. The lending institution will look at cash flow of the company first to see if the company generates sufficient cash flow to support the loan amount. Second to cash flow, is the evaluation of collateral. For example, if the loan is utilized to purchase equipment, then the equipment becomes the collateral. If the loan is utilized to purchase a commercial building, then the building becomes the collateral. In some cases, a loan may be unsecured -whereas no collateral is offered. In these cases, the cash flow of the operating entity becomes even more important. Contrasting this type of loan to a consumer loan; whereas a credit score or debt to income may have a higher emphasis on underwriting.
Riverfront Federal Credit Union specializes in commercial lending. For more information, please call Anthony Pomponio at (484) 345-4160 and we can discuss your business needs with the goal of improving cash flow and making your business a success!
Riverfront Live
Video Banking
Video Banking – Easy and Convenient
During business hours, our team of experts is ready and waiting to work with you. When you log into your session, you can select which group can assist you from our Personal Member Service, Lending Services, Business Services or Mortgage Services area.
Reach Out