Basic Savings
A Basic Savings account is the first step to becoming a member of Riverfront Federal Credit Union.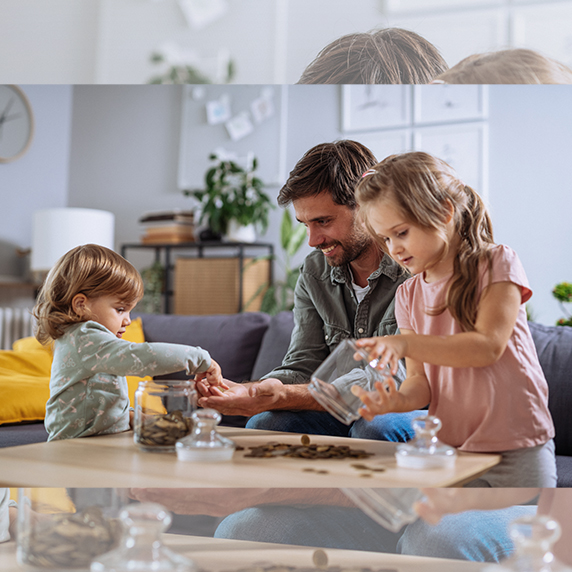 Save Up for Something Special! Open a

Club Account
Are you ready for an amazing vacation? How about a special holiday season with lots of gifts for your family and much less stress?
With a Riverfront Club account, you can save money all year for any special occasion. Your money is safe, secure and earns interest. Like a Savings Account you can always access the funds, but to help you stick to your goal of saving up for something special, the account is not accessible via debit card.
Types of Club Accounts include:
Vacation Club. Save up and reward yourself with an amazing vacation or anything else that you want to save for separately. Save a little for a fun long weekend… or save a bunch for a special trip or new appliance
Holiday Club. The holidays can sneak up on us, and before we know it we're racking up credit card debt to buy gifts. With the Holiday Club, you can save a little money throughout the year so there's plenty of cash available to make the upcoming holidays extra special. Plus, enjoy the added bonus of starting the New Year with no credit card debt! In early November, just in time for shopping, your Holiday Club balance will be automatically transferred to your savings account.
Personal Escrow Account. Do you have big expenses like taxes or insurance that cause you to break your budget? With the Personal Escrow Account, you can save for these expenses throughout the year and make these costs much easier to manage.
Club & Escrow Account Features:
No minimum balance
No monthly service charge
Contribute as much as you like as often as you like
Dividends paid monthly on average daily balance of $1 or more
Effective Strategies for Saving
The following recommendations are designed to help you establish and or grow your personal savings.
Pay Yourself First. When you pay your monthly bills, write a check to yourself, first and put it in your savings account.
Don't Borrow Additional Money to Pay off Debts or Bills
Cut Expenses. Get this number by analyzing your budget and determining where reductions can be made (e.g., eating out, buying snacks and lunch at work, going to the movies, etc.). Once you have determined how much you plan to cut, use this "found" money to pay down the balances on your debts
Optimize Your Monthly Payment. Pay the maximum amount towards your highest interest rate debts. Pay the minimum amount on all other debts.
Ask for Reduced Interest Rates. Some creditors, especially credit card companies, will reduce your interest rates if you just call and ask. If you receive offers for other credits cards with lower interest rates in the mail, use those offers as leverage when you are renegotiating your rates with your current creditors.
Set Goals and Priorities. Determine what's important. When you prepare to buy something ask yourself if this purchase is in line with the priorities you have set and will it help you reach your goal or delay it.
Ready to Get Started
Basic Checking is a free, no-frills, straightforward account that offers convenient services and no charges.
Open Your Account Today
Riverfront Live
Video Banking
Video Banking – Easy and Convenient
During business hours, our team of experts is ready and waiting to work with you. When you log into your session, you can select which group can assist you from our Personal Member Service, Lending Services, Business Services or Mortgage Services area.
Reach Out