Personal Security Tips & Ideas
This section is a collection of suggestions, tips and information designed to make you more aware of potential fraudulent activity and dangers associated with mobile and Internet banking, as well as debit card, credit card, and ATM use. Therefore, this section is by no means a complete list of every security and preventative measure that will keep you entirely safe. It is intended to be a helpful guide in preparing yourself against criminal actions.
Riverfront Federal Credit Union hopes that you are never the target of theft or fraud, but we know that one of the best ways to prevent such a situation is to be well-informed. Many of these tips are common sense, unfortunately, there are new scams created every day.
Fraud Alert ATM Deposit
As a security precaution to protect our members and their funds, effective immediately all ATM check deposits will be place on a 2 day business hold. For convenience, the first $200.00 will be available immediately. For any questions or concerns, please contact the credit union during business hours.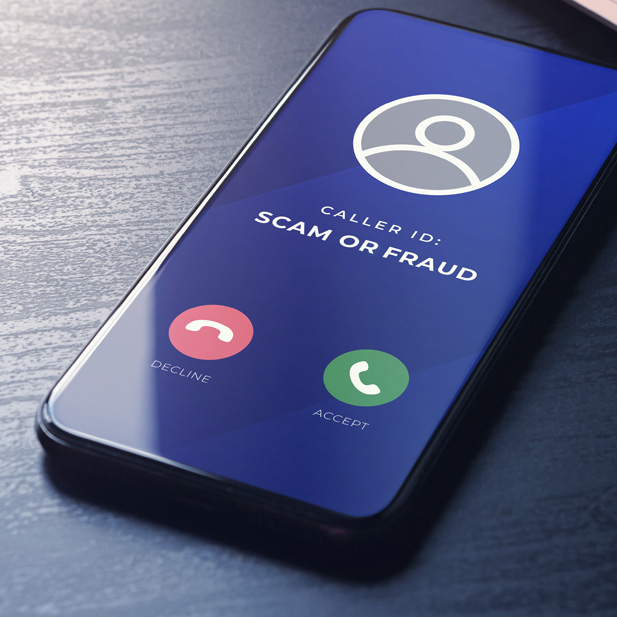 ATMs
Prepare Before You Go There:
Have your card ready. Avoid having to go through your wallet or purse to find your card. Make sure that nobody can see you entering your PIN or transaction amount.
Memorize your PIN. Do not write it down or keep it in your wallet or purse. Do not tell anyone else your PIN – including bank employees, the police, etc.
Maintain a small supply of deposit envelopes at home, in your car or office. Prepare all transaction paperwork prior to your arrival at the ATM site. This will minimize the amount of time spent at the ATM.
Choosing an ATM
Be careful when using freestanding ATM machines, especially at night. Observe your surroundings. If the machine is poorly lit, or is in a hidden area, use another ATM.
If possible, use an ATM with maximum natural surveillance and visibility from the surrounding area. Select an ATM at a location void of barriers blocking the line of sight of the ATM. This includes shrubbery, landscaping, signs and decorative partitions or dividers. Barriers provide hiding areas for would be assailants.
Never approach an ATM if you see suspicious people near the machine or if you have any doubts, fears, or concerns for your safety. Be aware of anyone sitting in a parked car in close proximity to or at a short distance from the ATM location.
Using an ATM
When you use a drive-through ATM, lock the car doors and roll up the other windows.
If you are using an indoor ATM that requires your card to open the door, avoid letting anyone that you do not know come in with you.
Do not use the ATM if you suspect anything unusual about the machine, especially the card swipe device. Sometimes thieves install bogus card swipe devices that capture the card's information.
When using an ATM, do not leave your keys or unlocked valuables behind in the car, and never leave your car engine running.
Never accept offers of assistance with the ATM from strangers; ask the financial institution for help.
Shield the ATM keypad from anyone who may be standing or parked nearby or anyone crowding you in an attempt to view your PIN and/or transaction. Use your body as a shield if necessary while you enter your access code.
If you are involved in a confrontation and the attacker is armed with a weapon and demands your money or valuables, GIVE IT TO THE SUSPECT. Do not resist, property may be recovered later or replaced.
Don't count your cash while standing at the ATM – immediately put away your cash, card, and receipt.
Always get your receipt and take it with you. Do not throw the receipt away at the ATM site. Keep your ATM receipts to compare to your monthly statement. It's the best way to guard against fraud and makes your record keeping easier.
Other Tips for ATMs
If you lose your ATM card, immediately contact the financial institution that issued your card.
Never lend your ATM card to anyone; treat it as if it were cash or a credit card.
The National Consumers league has a website Fraud.org to provide information on ATM fraud and scams. This website allows you to file a complaint if you are a victim of telephone or internet fraud. If you need to speak to someone, contact your State Attorney Office or call the Federal Trade Commission at 1-877-382-4357.
Don't ever leave receipts behind at ATMs, on counters at financial institutions, or at gasoline pumps.
Please Note:
RIVERFRONT FEDERAL CREDIT UNION WILL NEVER CONTACT YOU VIA TEXT MESSAGE, PHONE OR EMAIL ASKING YOU TO VERIFY YOUR PERSONAL INFORMATION. LEGITIMATE BUSINESSES WILL NEVER ASK YOU FOR THIS INFORMATION. PLEASE NOTIFY US IMMEDIATELY IF YOU RECEIVE A SOLICITATION VIA THE ABOVE METHODS ASKING FOR YOUR PERSONAL INFORMATION.
Mobile Banking Tips
Password-protect your mobile device. That is, enable a security code that must be entered in order for your mobile device to be accessed. Many new models allow for a biometric access function such as a fingerprint swipe. Password protection is the single most important thing you can do to protect your device.
Set your device to lock when there is no activity. The time duration should be a short as possible – as little as 10 seconds. This is especially important if you misplace your device or if it is stolen.
Keep track of your device. Don't leave your device unattended. The mere size of mobile devices makes them easy to steal, making them high profile targets for thieves.
Avoid banking while on public networks. Public networks are often not very secure. If you are on an untrusted network, turn off Wi-Fi and switch to a cellular network.
Don't follow unfamiliar links. If you receive a link in a text message, especially if the message is not from someone you know, ignore the link or delete the message.
Only download/purchase apps from a trusted source. Certified Android apps can be purchased from Google Play Store. iPhone apps can be purchased from the Apple App Store. Research an app before downloading it.
Never "Root" or "Jailbreak" your device. These terms refer to removing device restrictions in order to obtain third party apps, use the phone with other carriers, and access otherwise restricted functions.
Install anti-virus on your device(s). There are a number of providers for mobile device anti-virus. You can easily conduct research for them online before making a decision.
Internet Tips
Do not install pirated software or software from an unknown source.
Keep your Internet browser updated with the latest security patches from the vendor.
Obtain and install robust anti-virus software. Keep it up to date. Most anti-viruses updates automatically.
Do not open e-mail attachments from unknown sources.
Do not use internet e-mail to send personal information. E-mail is not a secure means of communicating personal information. Sending internet e-mail is like sending picture postcards. Whoever picks it up can read it.
If you receive an e-mail message that warns you that your account will be shut down unless you reconfirm your credit card information, do not use the link given in the e-mail. Look up a phone number for the company and call them to confirm.
Do not allow anyone who is unauthorized to use your PC.
Create PC logon passwords. Make use of automatic password-protected screen saver functions that lock the screen after a period of time (selected by you).
Do not enter personal information on an unsecured site. A secure (or "encrypted") transaction will have these two features:

An icon of a lock appears in the address line of the Web browser
The URL address for the Web page changes from "http" to "https" for the page at which you input the personal data
Do not store personal information on a public computer.
Check the URLs of sites referred to in e-mail for misspellings and other hints that it may be fraudulent.
Notify your financial institution of suspicious e-mail or telephone inquiries asking you for account information or passwords.
Be very cautious of e-mail where the return address does not match the e-mail content.
Beware of e-mail "phishing" scams. Phishing is when your account information is requested through a confirmation scam. They look official but your account information should never be requested from your financial institution or from Credit Card Companies via e-mail. If you are unsure, initiate a phone call to the requesting party.
When unsure about a business's legitimacy visit its website, call a phone number obtained from a trusted source, and/or check with a reliable resource such as the Better Business Bureau's BBB Online Reliability Program.
Keep a record of your online purchases, just the same as you would save your store receipts. Back up your transaction by printing the order confirmation.
Notify your financial institution immediately of any changes in your account information.
Get rid of your History. Browsers keep a log of where you have been online called a History. Hackers can track where you go, what you buy, and how many times you visit a site.
Enabling file and printer sharing on your PC gives hackers a wide open door to do some damage to your home and office network. If you don't need it, shut it off.
Clean your Browser's Cache frequently! Browsers retain information about certain websites to speed up browsing the next time you visit that website. Anyone with access to your PC can check where you have been and what you have read and looked at.
Turn off your PC when finished using it. If you have a broadband internet connection, you are connected to the net whenever your computer is turned on.
Identity Theft and Fraud
The following are suggestions to help avoid becoming a victim of Identity Theft:
Start by implementing a "need to know" attitude about your personal data. Only give out the information that person has a need to know. The more information you have printed on your personal bank checks (such as home phone number and hopefully not social security number) – the more personal data you hand out routinely to people who may not need to know that information.
If someone you don't know calls you asking for personal data such as your social security number, credit card number and expiration date, or mother's maiden name, don't give it to them. Your financial institution will never call to ask you for this information.
Guard your social security number. Do not give out your PIN number or credit card number over the phone unless you initiated the transaction.
Don't carry your SSN card; leave it in a secure place.
Be careful with receipts. Be sure you have them when you leave the store and don't leave them in the bag with your merchandise. Do not throw away ATM receipts in public trash cans. Keep the ATM receipt to verify with your financial institution's statement and then shred with the rest of your trash.
When traveling, have your mail held at the local post office or ask someone you trust to collect and hold your mail while you are away.
Remove mail promptly from your mailbox and never use your mailbox for outgoing mail. Identity thieves raid mailboxes for credit card offer, statements, or payments.
Destroy pre-approved credit card offers before you throw them out.
Account for all new checkbooks when you receive them in the mail.
Do not pass on personal financial information where passerby's can listen in on what you are saying. Wait until you are at a less public location to make the call.
Check your financial information regularly. You should receive monthly statements if you have a checking or credit card account. If you do not receive your monthly statement, call the financial institution or Credit Card Company immediately and ask about it.
Ask periodically for a copy of your credit report. Refer to the Credit Reports section of this document.
Maintain good records of your financial accounts.
Avoid sending personal financial information through unsecured e-mail.
Update your personal computer's virus protection, operating system, browser, and software regularly. Password-protect your PC.
Secure personal information in your home, especially if you employ outside help or have service work done in your home.
If you learn that you have become a victim of Identity Fraud you should do the following:
Contact all financial institutions you have accounts with and notify them that an identity thief has taken over your account information without your knowledge. You may need to cancel those accounts, place stop-payment orders on any outstanding checks that may not have cleared, and change your ATM card, account passwords, and PIN numbers.
File a police report. Get a copy of the report to submit to your creditors and others that may require proof of the crime.
Call the fraud units of the three principal credit reporting companies.
Equifax 800-525-6285
Experian 888-397-3742
Trans Union 800-680-7289
Contact the Federal Trade Commission (FTC) to report the situation. The toll free number is 877-ID THEFT (877-438-4338) or online at www.ftc.gov.
Contact the major check verification companies if you had checks stolen or checking accounts set up by an identity thief. If you know that a particular merchant has received a check stolen from you, contact the verification company that the merchant uses:
Certegy Check Services 800-437-5120
Federal Trade Commission 877-438-4338
ChexSystems 800-428-9623
Equifax 800-437-5120
SCAN 800-262-7771
TeleCheck 800-710-9898
You may also need to notify the following agencies depending on the extent of the fraud:
Postal Inspection Service Local Post Office Number
Social Security Administration 800-269-0271
Internal Revenue Service 800-829-0433
Credit Reports
AnnualCreditReport.com is the ONLY authorized source to get your free annual credit report under federal law. The Fair Credit Reporting Act guarantees you access to a free credit report from each of the three nationwide reporting agencies – Experian, Equifax, and TransUnion-every 12 months. The Federal Trade Commission has received complaints from consumers who thought they were ordering their free annual credit report, but instead paid hidden fees or agreed to unwanted services. Don't be fooled by TV ads, email offers, or online search results. Go to the authorized source when you request your free report.
How do I request my free credit report?
You can request your free report online, by phone or by mail. Visit AnnualCreditReport.com, call 1-877-322-8228, or fill out the Annual Credit Report Request form and mail it to Annual Credit Report Request Service, PO Box 105281, Atlanta, GA 30348-5281. No matter how you request your report, you have the option to request all three reports at once or to order one report at a time. By requesting the reports separately, you can monitor your credit more frequently throughout the year.
Why should I request my credit report?
Because the information in your credit report is used to evaluate your applications for credit, insurance, employment, and renting a home, you should be sure the information is accurate and up-to-date. In addition, monitoring your credit is one of the best ways to spot identity theft. Check your credit report at least once a year to correct errors and detect unauthorized activity.
What should I look for when I review my credit report?
If you see accounts you don't recognize or information that is inaccurate, contact the credit reporting agency and the information provider. For more information, read the FTC's tips on how to dispute credit errors. PDF, opens in new window.
If you suspect identity theft, you may need to place a fraud alert on your credit report, close compromised accounts, file a complaint with the FTC, or file a police report. Start by visiting the FTC's identity theft website.
Credit Cards
Report lost or stolen credit cards to the issuer immediately.
Check expiration dates on credit cards and contact the issuer if you don't get a replacement before they expire. Be sure to contact the issuer if you don't get your monthly financial statement and/or bills.
Protect your cards as if they were cash.
Don't leave your credit cards in your car's glove compartment. An alarmingly high proportion of all credit card thefts are from car glove compartments.
Ensure that you get your card back after every purchase.
Always check sales vouchers for the correct purchase amount before you sign them, and keep copies of your vouchers and ATM receipts.
Always check your billing statement and verify the amounts of your purchases.
Make a comprehensive list of all your cards and their numbers and store it in a safe place.
Don't lend your card to anybody. You are responsible for its use. Some credit card misuse can be traced directly to family and friends.
Never disclose your PIN to anyone. No one from a financial institution, the police, or a merchant should ask for your PIN. You are the only person who needs to know it. When selecting a PIN, always avoid the obvious – your name, telephone number, date of birth, or any simple combination thereof.
General Tips
Photocopy the contents of your wallet. Keep the photocopies in a safe place. If your wallet is ever lost or stolen, you will be able to remember the contents of your wallet by referring to the photocopies you took earlier.
Buy a shredder. Get into the habit of shredding everything before tossing it into the trash. You will have less of a chance of identity theft or someone charging items to your accounts.
Be suspicious of a call from the hotel desk shortly after check in. Unknowing hotel guests have been asked to verify their credit card number because the imprint was unreadable.
Thieves will watch you enter the hotel room and call from the guest phone in the lobby. If this occurs, tell the person on the other end of the line that you need to hang up and then call the front desk directly.
Be aware that almost every time you call an 800, 888, or 900 number, your name and address are captured by the company you dialed. This information becomes part of your electronic profile.
Ask your financial institution to notify you in writing if anyone requests your records. Reveal checking account information only to businesses you know to be reputable. Properly store or dispose of cancelled checks, and guard new checks. Report lost or stolen checks immediately.
There is no reason a shopping site needs your Social Security number. So don't give it out – EVER.
If you receive applications for "pre-approved" credit cards in the mail, be sure to tear them up or shred them. Criminals may retrieve this information and try to activate the cards for their use without your knowledge.
Be stingy about giving out your personal information to others. Adopt a "Need to Know" approach to your personal data.
Check your financial information regularly. Look for things that should be there and things that shouldn't.
Obtain a copy of your credit report periodically.
Maintain careful records of your banking and financial accounts.
Notify the Post Office immediately if you change your address.
If you are told of a forwarding order placed on your mail without your knowledge, go to the Post Office to check the signature and cancel the order. Ask the Post Office to track down the forwarded mail.
Do not give your account number over the phone unless you initiated the call.
Scams to Avoid
Illegal telemarketing or mail scams generally target those with poor credit. The scam will claim that for a fee you can obtain a major credit card. The caller will claim that your card is pre-approved and can be obtained without a credit check. Generally there is a fee charged. Some cards actually arrive in the mail but they are not a major credit card, they can only to be used for a specific store or catalog.
Beware of those who want to entice you to call a 900 number without giving you anything in return for your money. A good example is those with bad credit hoping to receive a credit card by calling a 900 number. They are given a list of banks to which they can apply for a card. In addition they also receive a huge phone bill – sometimes over $30 for one call.
Be suspicious of prize notifications that have you call a 900 number. There is always a charge for a 900 number call. Before calling, know what the charges are. Often 900 numbers come with a long recorded sales pitch. The longer the call, the higher the phone charges and often you are directed to call another 900 number at the end of the sales pitch. Remember the old adage – if it sounds too good to be true – it usually is.
The Pigeon Drop – in this scam the victim is approached by persons claiming to have found a large sum of money. The victim is told by the person who is in on the scam that they would like to share the money with the victim but first the victim has to put up some of their own money as a gesture of good faith. Packages are switched. The victim ends up with nothing and the scam artist is nowhere to be found.
Rocks in the Box – The victim is approached by someone offering to sell them a new TV, VCR, or similar item at a very low price. Once the victim parts with their money, they find the box contains rocks (or other heavy junk used to add weight to the package so it appears as if the contents of the box are legitimate).
Financial Institution Examiner – the victim is contacted by telephone from a person claiming to be an officer of the financial Institution at which the victim has an account. The caller claims that there has been a computer malfunction and needs to verify specific data information. The caller tries to obtain the victim's account number, account balances, recent account activity, social security number, and/or any other information they can use to obtain access to the victim's accounts.
Home Improvement Scheme – The victim is approached at their home by an individual in a contractor type vehicle and uniform. They tell the victim they just finished a large contracting job nearby and have some materials left over. They tell the victim they will use the left over materials at a huge discount for the victim's home. When the victim agrees, the contractor will do a lousy job with cheap materials. These contractors usually travel from town to town.
Advance Fee Scams – the intended victim is telephoned and told by the person trying to commit the fraud that he or she has a large amount of money coming but there is a small fee required first. The bottom line is that people generally do not get something for nothing and any advance fee request should be considered a red flag.
Fraudulent Solicitation Scams – Generally someone calls asking the victim to support a worthwhile cause. By saying someone is at the door and asking for the caller's phone number, the victim can usually determine whether the caller is legitimate. Fraudulent callers will never leave their telephone number. If it is a legitimate local public service handling the fundraiser, the caller will not hesitate to leave a number. Even if a number is provided, it is still a good idea to call the appropriate public service and ask if the caller was legitimate. These frauds are easily identified by a demand for an immediate commitment. Claiming to have no credit card will usually work to get rid of a fraudulent caller.
Fake Phone Repair Scam – here a telephone repair technician calls the home and claims there are problems on the line and needs assistance in tracking down the source of the problem. He or she then asks the resident dial 90# and hang up. If this is done, the caller is able to utilize the phone line of this person to make long distance calls from a remote location. These calls will be charged to the victim.
Hotel Guest Scam – in this scam the supposed front desk clerk will call your room and request confirmation on your credit card number and expiration date. There can be any one of numerous reasons why the confirmation is needed. If the victim provides the information their next credit card statement arrives full of charges they never made. Never give out any credit card information on an incoming call. Asking for a number to call back is not enough. Clever thieves will come up with one. Independently acquire the number and call it. If you find out the call is a scam, report it immediately.
Riverfront Live
Video Banking
Video Banking – Easy and Convenient
During business hours, our team of experts is ready and waiting to work with you. When you log into your session, you can select which group can assist you from our Personal Member Service, Lending Services, Business Services or Mortgage Services area.
Reach Out