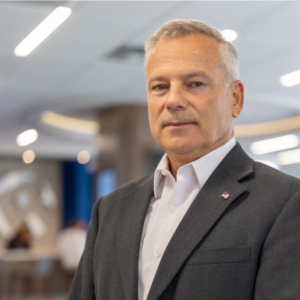 It's hard to believe how quickly 2022 flew by. I think I speak for most of us when I say it was a relief to get to and then through the post pandemic period. But this trying time has had a dramatic impact on the way we live our lives and run our businesses. The Board and management team have kept Riverfront on a clear path while the organization has adapted to better serve your ever-changing financial needs.
This past year has been a year of monumental change, but I'm proud to say Riverfront has grown stronger than ever thanks in no small part to the loyalty and generosity of you, our members. We sincerely appreciate that so many of you have taken the time to complete our surveys and give us feedback. Your input is the best way for us to make informed decisions for the future. And we're also grateful to be voted Readers' Choice Best Credit Union for the last three years in a row.
Drumroll, please! In 2023, Riverfront will celebrate its 75th anniversary! Although the official date is in November, we'll be saying "Thank You" all year long by doing 75 gestures of goodwill for our "75 Wishes" campaign to benefit those in our local community as well as non-profit service organizations. Plus, we'll announce other exciting events and giveaways throughout the year. It's our way of saying thank you for a wonderful 75 years! More details coming soon, so stay tuned to our social media channels.

We encourage you to get involved. If you are aware of a group or individual in need of support, please send ideas or recommendations for our 75 gestures of goodwill by email to marketing@riverfrontfcu.org. Let's all commit to taking action and making good on the Credit Union philosophy of "People Helping People". Together we can help improve each other's lives!

Be sure to follow us on Facebook, Instagram, LinkedIn and Twitter so you don't miss a thing!
Now I'd like to wrap things up by saying how grateful I am to represent Riverfront FCU and for the opportunity to serve such a devoted and dynamic membership. And a Happy New Year to you and yours.